The Benefits of Outsourcing Calibration Services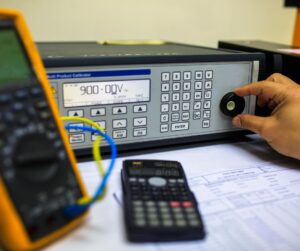 If your business relies on accurate and well-performing instrumentation, calibration is an essential investment. Outsourcing calibration services can offer some compelling advantages, ensuring you spend less time and money verifying your equipment's accuracy, and guarantees the results provided are held to a high, international standard. At Trident Calibration Labs, our technicians have over 100 years of combined experience, and we are proud to be an ISO/IEC 17025 accredited lab. Read on for some reasons you might consider outsourcing for your calibration needs.
 Unparalleled Expertise
Calibration requires a great deal of technical knowledge and expertise, as slight variations in accuracy or results can prove disastrous, especially for industries like aviation or healthcare where imprecise measurements can quickly mean the difference between life or death. By outsourcing calibration, businesses can benefit from the experience of professionals who specialize in these services. Calibration experts provide in-depth knowledge of industry standards and best practices, giving you the peace of mind that you will receive accurate and precise measurements and better quality control.
Cost-Effective
A lot goes into expert calibration services, and many businesses may find establishing in-house calibration cost prohibitive. Accurate and reliable calibration requires costly equipment, hiring and training calibration technicians and maintaining the infrastructure. Outsourcing calibration relieves these concerns and eliminates the upfront costs of establishing in-house services as well as ongoing expenses. As technology grows and industry standards shift, it can also be difficult to keep up with emerging trends and ensure your equipment continues to be held to changing accreditation requirements. Outsourcing can relieve the headache of worrying about the veracity of your instrumentation and help your business get back to doing what it does best.
Time Efficiency
One of the most compelling benefits of outsourcing calibration is the amount of time it saves. Rigorous calibration can be time-intensive, especially if there are a number of different instruments a company needs calibrated. Outsourcing with a trained calibration lab can substantially cut down on the time it takes to properly service equipment, freeing businesses of the worry of meeting impending deadlines or negatively impacting productivity.
If your instruments are experiencing problems, do not delay in seeking a solution. We can help your business get back up and running as quickly as possible. With the level of experience and attention to detail we provide across the Phoenix area, why go anywhere else?
Contact us today for a fast quote for instrument repair services or any services your business needs!